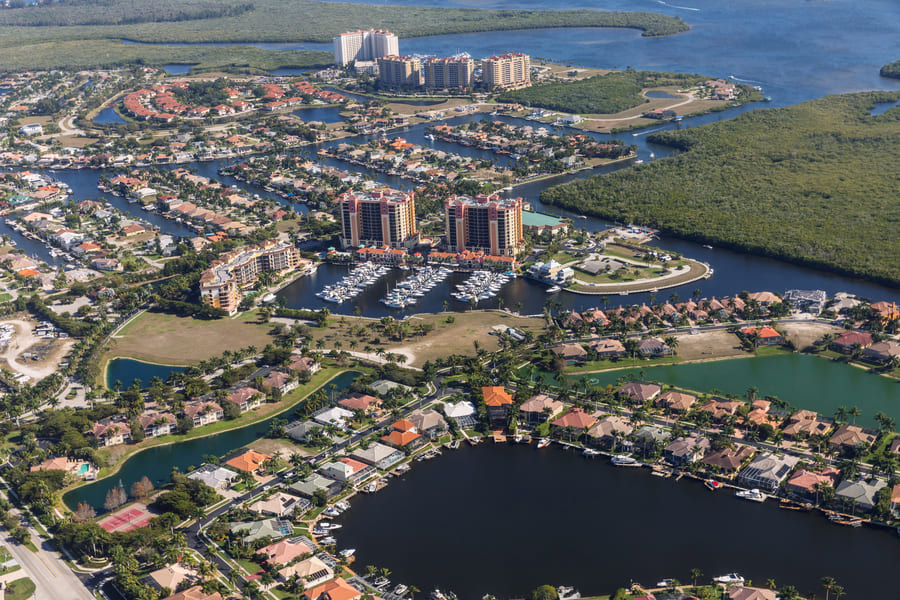 With its palm-lined canals and access to the Gulf of Mexico, Cape Coral is a paradise for boaters. Here, you can enjoy a wide array of shopping opportunities, waterfront restaurants, playgrounds and parks, extensive nature preserves and one of Florida's most exciting waterparks. In this article, we will show you the best places to visit on your boat trip to Cape Coral.
Directions and Marinas for Boaters in Cape Coral
Cape Coral is located in the center of Lee County, making it easily accessible for guests in Fort Myers, Fort Myers Beach, Pine Island, Captiva and Sanibel.
Are you planning a trip to the city on the Gulf? Then, this Cape Coral map will show you all the attractions, restaurants and shopping opportunities.
The following marinas in Cape Coral are perfect for a stopover – not only if you are running low on fuel.
This highly modern marina at the Caloosahatchee River is perfect for boaters coming from the south. Even from a distance, its size is clearly visible: The Tarpon Point Marina features 200 slips for vessels of up to 100 feet. In addition, there is a gas station, two restaurants, a hotel and multiple shops.
Despite its name, Safe Harbour Marina is more than just a place to moor your boat. Nestled in the elegant surroundings of Cape Harbour, this marina offers three restaurants and luxurious condos, as well as different shops and boutiques. The 76 slips are perfect for vessels from 35 to 65 feet. And of course, you can refuel your boat before heading back to open waters.
Do you want to park your boat in the heart of Cape Coral? Maybe for a trip to the restaurants and shops on Cape Coral Parkway? Then, Walker's Hideaway Marina is a perfect spot for you. And not only that: If you are looking for spare parts or boat repairs, the friendly staff is always happy to help you.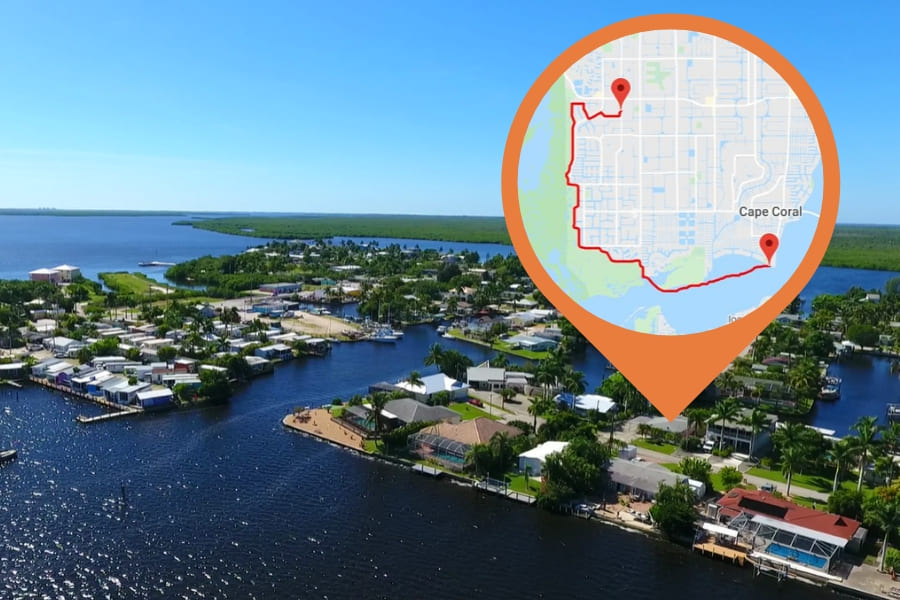 You want to know how long your trip to Cape Coral will take? Then you should try our user-friendly boat tool.
Weather Cape Coral and best Travel Time for Boat Trips
The weather in Cape Coral is dominated by alternating dry and rainy seasons. Average temperatures of 77 °F (25° C) and a low chance of precipitation make the winter months perfect for boat trips.
Summer on the Gulf of Mexico brings hot and humid conditions. Although the rainfalls are mostly short, you should account for hurricanes from June to the end of November. Most storms occur in August and September.
Do you want to know what the weather is like today? Then, you should have a look at this Cape Coral Webcam.
With our climate chart, you can check the weather in Cape Coral for every month:
Even though Cape Coral has fewer beaches than Captiva, Sanibel or the aptly named city of Fort Myers Beach, the following places are perfect if you want to enjoy Florida's sun:
This small, yet beautiful beach is located on the southern end of Cape Coral. Here, you can relax in the fine, white sand, enjoy the view over the Caloosahatchee River, have a walk on the fishing pier and dine at the adjacent Boat House Restaurants. Picnic tables, barbecue spots and a playground make the Yacht Club Beach perfect for families with children.
Situated in the heart of Cape Coral is Four Freedoms Beach. You might not be allowed to swim here. Nonetheless, this beach attracts guests with its soft sand and natural surroundings that are perfect for kayaking. Alternatively, you can visit the adjacent Four Freedoms Park. Here, lush palm trees, benches and a large playground await you.
Sights and Attractions in Cape Coral
Family-friendly fun and plenty of activities await you at the following sights and attractions in Cape Coral
Sunsplash Family Waterpark
Are you looking for refreshing fun with an adrenaline rush? Then, this attraction in the heart of Cape Coral is ideal for you. Thrill-seekers will love the slides of the Sunsplash Family Waterpark: among them the 30 feet tall Cape Fear that will send you down a dark tunnel; or the aptly named Terror Tube with its almost vertical drop. The Electric Slide offers half a minute of narrow curves. Or how about some relaxation? No problem. Just drift around in the lazy river or stretch your legs on the sandy beach. Thanks to water playgrounds, the park is also perfect for little guests.
This 7.5 acre park near Matlacha is a paradise for kayakers who want to explore Cape Coral's natural beauty. Alternatively, you can watch waterbirds, iguanas and alligators on marked trails, while a butterfly house lets you find out more about Florida's colorful pollinators. In addition, Sirenia Vista Park is a perfect place to see manatees in Cape Coral – especially in the winter months, when the animals are drawn in by the warm water.
Despite its central location, this recreational area in southern Cape Coral offers you the chance to explore Florida's natural landscapes. An easy hiking trail leads through dense vegetation before passing small ponds, wetlands and salt flats that are home to a wide variety of animals: among them tortoises, snakes and alligators. Rotary Park also features an observation tower, a playground, picnic areas, a reptile enclosure and a butterfly pavilion.
Wicked Dolphin Rum Distillery
Sugar cane not only grows in the Caribbean, but also in Southwest Florida. And what better use for it than making rum? The Wicked Dolphin Rum Distillery in Cape Coral has been showered with awards for their tasty beverage. If you want to know how they create rum out of local ingredients, you should take their tour. The guides will show you every part of the process. Afterwards, it is time to sample the rum and see (or rather: taste) what makes it so special.
Shopping Opportunities in Cape Coral
Cape Coral might be a small town by US standards – its shopping opportunities, however, leave nothing to be desired. The following stores are particularly suited for boaters:
If you moor your vessel at the Safe Harbour Marina, you are not limited to buying fuel and boating equipment. Here, only a short walk separates you from stores selling clothes, swimwear, bags and souvenirs. New additions include a winery, a dog boutique and a small art gallery. Or do you want to satisfy your sweet tooth? Then, have a look inside Norman Love Confections. No matter what you want to buy – thanks to its beautiful Mediterranean architecture, Cape Harbour is always worth a shopping trip.
Cape Coral Farmers Market
Buying fresh veggies and fruits is a perfect way to support local producers and enjoy organic quality. But do you know what is even better? Loading these vegetables and fruits directly onto your boat. The Farmers Market at Cape Harbour makes it possible. Here, you can also buy local specialties like seafood, jam and desserts. The market takes place every Saturday from May to October.
More shopping opportunities await you at the Tarpon Point Marina. Here, you can shop for casual clothes and swimwear, admire beautiful paintings at Lorne's Gallery and buy sweet snacks at Gulf Coast Fudge. The Marina Village Shops also feature a spa – perfect for relaxing massages and beauty treatments after a long day out on the sea.
Supermarkets in Cape Coral
Do you want to go grocery shopping and bargain hunting? No problem. There are four Walmart branches in Cape Coral. In addition, you can visit the city's seven Publix supermarkets – perfect if you are looking for organically produced food.
Restaurants in Cape Coral
All aboard for a culinary trip to Cape Coral! The city on the gulf features excellent restaurants – particularly for boaters:
Boat House Tiki Bar & Grill
Do you want to enjoy tasty seafood with a view of the Caloosahatchee River? Then, this restaurant next to Cape Coral's fishing pier is perfect for you. Here, Hawaiian flair meets the most popular dishes Florida has to offer: among them, Coconut Shrimps, Mahi Mahi filet and crispy Conch Fritters. The menu also features Cuban sandwiches, pancakes, tacos and finger food for little guests. In addition, the Boat House Tiki Bar & Grill draws in guests with its casual, family-friendly atmosphere. Boaters can moor their boat here, and right next to the restaurant, you will find a sandy beach for swimming and sunbathing.
Another culinary hotspot directly by the water is located in southern Cape Coral. 12 boat slips make the Rumrunners an ideal restaurant for hobby-skippers. And not only that: The menu will take you on a tasty trip through the US, featuring everything from Maine Lobster to "New Orleans Style" littleneck clams and Caribbean Conch Fritters. Only the freshest seafood is served here. Or do you prefer steaks, burgers, chicken, French Fries and healthy salads? No problem, thanks to the wide variety of dishes.
If you want to experience the vibes of Florida's Golden Twenties, there is no better place in Cape Coral than Fords Garage. But this restaurant not only pleases the eye with its elegant wooden decor and a real antique car. The menu is ripe with American classics like burgers, Mac and Cheese and hearty potato wedges, while also offering green salads, fish, seafood and Florida's famous Key Lime Pie. The wide selection of beers and spirits leaves nothing to be desired, either.
Accommodation Options in Cape Coral
Whether you want to go on shopping sprees or walk through idyllic parks – there is no reason to limit your stay in Cape Coral to just one day. The following accommodation options are particularly suited for boaters:
Waterfront locations and countless amenities – these hotels in Cape Coral will make you want to stay even longer:
Located only 550 yards from Walker's Hideaway Marina, this 3-star-hotel offers close proximity to Cape Coral's lively shopping and restaurant district. And not only that: The Holiday Inn Express amazes with its large modern rooms at fair prices. There is free breakfast, a swimming pool and Jacuzzi, as well as a gym. In short: If you are looking for a basic, yet clean hotel with nice extras, this is the right place for you.
The Westin Cape Coral Resort at Marina Village
Do you want to stay next to the Tarpon Point Marina and enjoy luxurious vibes? Then, this 4-star-hotel might just be the perfect choice. In addition to a whopping 180 rooms with 1–3 bedrooms, the Westin Cape Coral Resort features three swimming pools, two tennis courts, a spa and a gym. Little guests can play at the Kids Club, and two restaurants offer fine dining with beautiful ocean views.
Beach Resorts in Cape Coral
Cape Coral features a wide variety of accommodation options. However, if you want to lounge on a private beach, you should check out these beach resorts a bit further to the south:
Sundial Beach Resort & Spa
This popular resort is located on the south coast of Sanibel Island. It overlooks one of Florida's finest beaches – not only for guests who want to collect colorful seashells. In addition, the Sundial Beach Resort & Spa offers a large pool, relaxing massages and comfortable suites with up to three bedrooms. Do you want to play golf or tennis? Perfect – now you have another reason to stay here.
Pink Shell Resort Fort Myers Fort Myers Beach lies 10 miles south of Cape Coral and is aptly named. If you want to enjoy its white sandy beaches and turquoise waters, the Pink Shell Resort is a perfect place for you. Here, you will also find a large pool area, a spa center, shopping boutiques and two restaurants. Another selling point for boaters: This 4-star-resort lets you moor your vessel right in front of the property.
Vacation Homes in Cape Coral
Plenty of space for the whole family, quiet surroundings and guaranteed privacy – these are only some amenities of the vacation homes in Cape Coral.
Plenty of space for big groups, your own pool and an idyllic garden – these are the selling points of Vacation Home 1.
Boaters who want to moor right next to their temporary home should have a closer look at Vacation Home 2.
Vacation Apartments in Cape Coral
If you value your privacy, but do not want to rent a whole house, vacation apartments in Cape Coral are the perfect choice for you.
Vacation Apartment 1 is known for its cozy vibes and the quiet location. In the kitchen you can prepare meals for your whole family. There is also a roofed pool if you want to go for a swim.
Spacious, tastefully decorated rooms await you at Vacation Apartment 2.
Staying in the Sunshine State does not have to be expensive. These motels in Cape Coral are ideal if you want to save money on your boat trip:
When it comes to budget-friendly accommodation options right by the canal, the OYO Waterfront Hotel is a top choice. Here, you will find basic, yet clean and spacious rooms, complete with kitchen and balcony. If you prefer your own living room, we can recommend the suites. There is a swimming pool outside, and thanks to boat slips, this hotel is ideal for boaters.
Hideaway Waterfront Resort & Hotel
A large pool under palm trees, Hawaiian Tiki Huts and tastefully decorated rooms in the Old Florida style – the Hideway Waterfront Resort & Hotel is a true feast for the eyes. Vacationers on a shoe-string can rent an economy room with double bed; or how about a spacious suite with kitchen, patio and barbecue grill? The hotel offers mooring spots for boaters, as well as bicycle rentals if you want to explore the surrounding area on land.
You have not found the accommodation option you want?
Then just have a look here!
Cape Coral FAQ – Frequently asked Questions
Where is Cape Coral, Florida located?
Cape Coral lies on the west coast of the state – mid-way between Tampa and Florida's southern end. Situated to the west and south are Pine Island, Sanibel and Captiva. To the east, you will find the city of Fort Myers.
Where can I moor my boat in Cape Coral?
In addition to private mooring spots, Cape Coral features three public marinas: Two of them are located on the city's southern coast; one is found in the east, near the Cape Coral Bridge.
Which restaurants in Cape Coral are suited for boaters?
For hobby-skippers, two of the city's restaurants are particularly worthwhile: the Boat House Tiki Bar & Grill in the southeast, and the Rumrunners at Safe Harbour Marina. You can moor your boat right next to those restaurants.
When is the best time for a boat trip to Cape Coral?
Thanks to pleasant temperatures and a low chance of precipitation, winter and spring are ideal times for boat trips to Cape Coral. In summer and spring, powerful storms can form off the coast. Therefore, you should check the weather report before heading to open waters – especially in August and September.