Pine Island might be Florida's biggest island. However, there are no large crowds or tall buildings here. Instead, this place is perfect if you want to unwind under palm trees and experience "Old Florida" vibes.
On land, sweet fruits, art galleries and the remnants of the Calusa Indians await you, while Pine Island's waters attract boaters from near and far. Excellent fishing spots, waterfront restaurants and the idyllic coastline make Pine Island a worthwhile destination for your boat trip.
Directions and Marinas for Boaters on Pine Island
Thanks to its proximity to the mainland, getting to Pine Island is fairly easy. From Cape Coral's saltwater canals, you can ride your boat to the Caloosahatchee River before quickly reaching the southern end of Pine Island. The distance between Cape Coral and St. James City is only 12 miles.
Do you want to see which sights and attractions the island has to offer? Then, you should check out our Pine Island Map. With this map, you can plan your boat trip the easy way.
Do you want to go for some shore leave? No problem. Pine Island features 3 marinas – all of them with gas stations and shops.
Pine Island's biggest marina is located in the northwest, between the Alden Pines Country Club and the Randell Research Center. If you want to buy fuel, spare parts, fishing equipment or snacks, you have come to the right place. In addition, the Pine Island Marina also offers boat repairs.
Are you heading south? Then, the Monroe Canal Marina in St. James City is a perfect place to refuel your vessel and have something to eat. In addition, guests can purchase clothes and fishing gear, have their boat repaired and look for souvenirs at a quaint little art gallery.
Bocilla Marina Useppa Shore
Boats of up to 110 ft can dock at the Bocilla Marina Ueseppa Shore. In addition to boating equipment, fuel, bait and snacks, this northern marina also offers close proximity to the Bokeelia Art Gallery. Right next door, you can enjoy a meal at Capt'n Con's Fish House before heading back to open waters.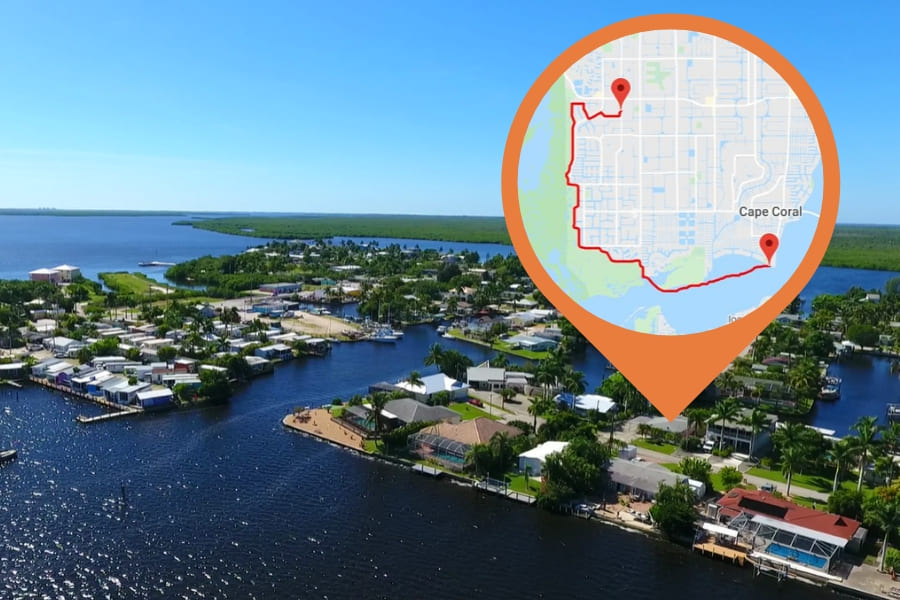 Calculate the travel time to Pine Island and check out the perfect route with our navigation tool.
Weather Pine Island and best Time for Boat Trips
As is typical for Southwest Florida, Pine Island's climate is dominated by the change between dry and rainy season. In the winter months, the weather is mostly warm and dry – perfect for boat trips.
Summer, however, brings hot temperatures, high levels of humidity and heavy rains. Between June and November, boaters should watch out for hurricanes. Even though Pine Island is less affected than other places in Florida, you might have to postpone your boat trip due to storm warnings.
Do you want to know what the weather on Pine Island is like in a particular month? Then check out our climate chart.
Visitors who are expecting white sandy beaches might be disappointed by Pine Island. One look at the map reveals: The island's coast is dominated by thick mangrove forests.
Although the brackish water does not lend itself to swimming, it is a perfect place for kayakers. The lush coastal vegetation attracts a plethora of waterbirds for you to observe on a boat trip. One of the best places to launch your kayak is Tropical Point Park between Pine Island Center and St. James City.
If you are looking for a real beach trip, you should travel across the Pine Island Sound. This way, you will reach the amazing beaches of Sanibel and Captiva Island. Or do you prefer even more quiet beaches? Then, small islets like Picnic Island or Cayo Costa are ideal for you.
Sights and Attractions on Pine Island
Whether you are looking for scenic nature, art galleries or interesting museums – Pine Island features a lot of sights and attractions for you to explore.
If you want to discover Florida's pristine beauty, Pine Island's nature preserves are a perfect place. You could, for example, stroll through the Flatwoods Preserve in the heart of the island. This 1 mile long hiking trail offers a good chance to see animals like tortoises, hogs and bald eagles. Alternatively, explore the swampy area of Galt Preserve in the south – on wooden boardwalks, of course. If you are lucky, you might even spot an alligator in the brackish water.
Or would you like to learn more about the fascinating world of mangrove forests? Then, you should head for the 800 acre Big Jim Creek Preserve north of Bokeelia. Thanks to a huge population of herons, ibises, spoonbills and fish eagles, this preserve is a heaven for bird-watchers.
Pine Island is famous for its sweet fruits – so famous that people travel hundreds of miles to taste them.
A whopping 24 sorts of mangoes are grown on the Pine Island Mango Farm. Here, you cannot only purchase unprocessed fruits. The family business Promised Land Mangoes is also famous for their mango chutney and jam – as well as homemade honey. Or do you prefer lychees? Then, you should head for the Treehouse Nursery, where you can choose between 20 different sorts.
Lovegrove Gallery & Gardens
One of Southwest Florida's most colorful artist colonies is located in Matlacha. Here, pink, yellow and green shacks keep the spirit of the Hippie era alive. Even more splendor awaits you inside the 893 square feet gallery: Here, the artist Leoma Lovegrove displays her famous finger paintings, while pop-art sculptures grace the gardens – among them trees that Lovegrove crafted out of old plastic bottles.
Do you want to know more about the Calusa Indians? Marvel at a huge shell collection or see how people did their laundry a hundred years ago? Then, you should visit the Museum of the Islands. Here, you can also see a true masterpiece: a portrait of George Washington that was crafted out of 300.000 glass pearls and took 10 years of painstaking work to complete
Hundreds of years ago, the Calusa Indians created earthen mounds to better overlook the terrain. If you want to see the remnants of this extraordinary effort, we recommend the Randell Research Center in the north of Pine Island. There, the Calusa Heritage Trail provides a lot of information about the island's first inhabitants – and about South Florida's unique plant life.
Shopping Opportunities on Pine Island
There are no huge malls or supermarkets on Pine Island. Instead, shopping takes a more intimate and personal form. Here, you can shop at small family businesses, stroll through art galleries under palm trees and have a nice conversation with the shopkeepers. The following shopping opportunities are especially worthwhile:
Pine Island has long been a favorite place for free spirits and artists inspired by the island's natural splendor. Some of the most beautiful works are on display at the Bokeelia Art Gallery in the north of Pine Island. Of course, you can also buy them here. In addition to paintings by local artists, the gallery features an amazing collection of glassware, pottery and jewelry.
If you want to stock up on groceries, this little store on Pine Island is the right place. The family-owned St. James General Store is known for its friendly service. Of course, the selection cannot quite compare with the Publix and Walmart stores on the other side of the Matlacha Pass. However, there is ice-cold beer, sandwiches, candy – and many other products for your daily needs.
Are you looking for fresh fish and seafood in St. James City? Then, the Fish Market near the Monroe Canal Marina is an ideal place. Here, you can buy the daily catch directly from the coast – as fresh as it gets. The Fish Market offers a wide array of seasonal products: from shrimps and stone crabs to prawns and conches.
Restaurants on Pine Island
If being on a boat makes you hungry, you should stop by at Pine Island's excellent restaurants:
The island's most famous restaurant not only amazes guests with its "Old Florida" architecture. The menu features a wide array of dishes: from excellent seafood and steaks to hearty Cuban sandwiches – all prepared with the quality you would expect from a 4 star restaurant. Hungry skippers are in for another treat: The Tarpon Lodge has its own mooring spots and can easily be reached by boat.
Located right next to the Bocilla Marina Useppa Shore is the Lazy Flamingo Restaurant – a perfect place to gorge yourself on seafood. But this restaurant is not only famous for freshly baked shrimps and tender grouper and wrasse filets. Long-term customers also recommend the smoked pork loins. And do not forget to try the restaurant's Key Lime Pie: Florida's sweetest temptation and the perfect dessert for hot days.
This restaurant in Matlacha has been in business for 90 years – no wonder considering its delicious seafood, steaks and burgers. In addition, live concerts and beautiful ocean views make every dinner at Bert's Bar and Grill a truly unique experience. As you would expect from a waterfront restaurant deserving of its name, you can easily access it by boat.
Accommodation Options on Pine Island
Florida's biggest island is full of things to see and do. So why not stay longer? The following accommodation options on Pine Island are especially suited for boaters:
Quiet surroundings, cozy rooms, boat docks and scenic nature – these are just some of the amenities Pine Island's hotels have to offer.
Located at the northwestern coast of Pineland is the island's most popular accommodation option: the Tarpon Lodge. On the outside, this 3 star hotel pleases the eye with its wooden architecture in the Old Florida style. Inside, large, modern rooms overlook a beautiful palm garden. In addition, the Tarpon Lodge features free breakfast, a swimming pool and boat docks. The award-winning Tarpon Lodge Restaurant is another reason to stay here.
Beach Resorts on Pine Island
As beaches are a rare sight here, Pine Island does not have any beach resorts. However, on the neighboring islands Sanibel and Captiva, you can fulfill your dream of lounging on pristine private beaches:
This 3 star resort in southeastern Sanibel Island not only pleases the eye with tropical palm trees. Right behind the gardens, you will find a beach with golden sand and turquoise waters. Of course, you can also splash around in the pool or enjoy relaxing massages and beauty treatments at the spa. Whether you opt for one or two bedrooms – all suites at the Casa Ybel Beach Resort feature a balcony overlooking the sea. This resort in the north of Captiva Island offers a plethora of activities: from golf and tennis to swimming, kayaking and workouts at the gym. In addition, the South Seas Island Resort is known for its large spa area, while also featuring a private beach. Parents will love the on-site childcare with fun activities for the little guests.
Vacation Home on Pine Island
Are you looking for an accommodation option for the whole family – with your own kitchen and a lot of privacy? Then, a vacation home on Pine Island is your ideal choice.
Plenty of space for big groups, a large pool and idyllic gardens – these are the main selling points of vacation home 1.
Plenty of space for big groups, a large pool and idyllic gardens – these are the main selling points of vacation home 2.
Vacation Apartments on Pine Island
Especially for couples and small groups, Pine Island's vacation apartments are an ideal choice.
Vacation Apartment 1 is known for its cozy vibes and the quiet location. In the kitchen you can prepare meals for your whole family. There is also a roofed pool if you want to go for a swim.
Spacious, tastefully decorated rooms await you at Vacation Apartment 2.
Pine Island itself does not have any motels for travelers on a shoestring. However, on neighboring Sanibel Island, you can choose between two budget-friendly accommodation options:
Tropical Winds Beachfront Motel
This cozy 2 star hotel offers the best of both worlds: In the north, it almost borders the serene beauty of the J. N. Ding Darling Wildlife Refuge. In the south, Sanibel's beach is only a short walk away. Every bungalow has a washing station where passionate "shellers" can clean their souvenirs. In addition, the Tropical Winds Beachfront Motel also offers a swimming pool – perfect if you want cool off on hot days.
This motel in eastern Sanibel is conveniently located near the island's marina. It offers quiet surroundings and clean, spacious rooms. Sanibel's famous Lighthouse Beach is only a ten minute walk away, and right next door to the Parrott Nest Cottages, you can enjoy an excellent breakfast at the Lighthouse Café.
You have not found the accommodation option you want?
Then just have a look here!
Pine Island FAQ – Frequently asked Questions
How long is Pine Island
Pine Island is 17 miles long, but measures only 2 miles in width. If you were to walk from Bokeelia in the north to St. James City on the island's southern end, it would take you about 5 hours.
What is there to do on Pine Island?
Pine Island offers a lot of activities: You can, for example, walk through forests and swamps, go kayaking along the coast, visit art galleries and a history museum, taste fresh mangoes and lychees, or explore the archeological heritage of the Calusa Indians.
Are there beaches on Pine Island?
Pine Island only has a small beach in the south: Tropical Point Park. While dogs love to go for a swim here, the murky water is less appealing to vacationers. The rest of the coastline is covered in mangroves. Swimming here is not advisable.
Are there alligators on Pine Island?
Yes, the waters of Pine Island are home to alligators. During mating season in spring, the animals can sometimes be seen on land areas like walking trails. For the most time, however, they spend their lives in secluded swamps and ponds. If you travel Pine Island's coastal waters by boat, you also have a chance to spot rare crocodiles